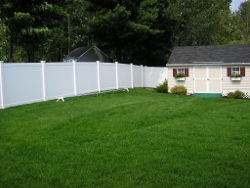 Vinyl/PVC Fencing by Huntersville Fencing
The difference is in the details.
Vinyl fencing, also known as PVC fencing, is durable yet elegant. Virtually maintenance free, vinyl is impervious to weather, so it will never chip, fade, crack or rot. It never needs painting, allowing you to enjoy its classical appearance year after year. Our PVC fencing is designed to beautify and enhance the value of your property.
3 Things you'll avoid with Vinyl Fencing: Repair, Replacement, Regular Maintenance:
When installed by the experts at Huntersville Fencing, Vinyl Fencing needs little repair or maintenance, especially when compared to other popular fencing types.
Corrosion can become a problem with some metal fencing options. Termites, warping, and regular painting are all disadvantages to wood. However, with a Vinyl fence from Huntersville Fencing these problems are avoided almost entirely.
When it comes to maintaining your vinyl fence, a good pressure washing and a light detergent is all you need.
Advantages to Installing Vinyl Fencing:
Sales of vinyl fencing have been trending upward for the past 8 years, averaging about a 30% growth each year. It's clear that vinyl fence installation is a popular and viable option. A distinct advantage over wood and steel fencing is its resilience. Vinyl fences will "give" under major stress or fence trauma, popping out of post holes, but never breaking or splintering, which can hurt people, pets and even large animals. Vinyl fencing is only available in lighter colors, because darker colors absorb more heat from the sun, which can cause warping and bending as well as other undesired effects. Huntersville Fencing has these advantages and more in mind when planning, building, designing, or supplying your vinyl fence. When looking for experienced vinyl fence installation experts, look no further, call Huntersville Fencing at 704-659-3019 now!