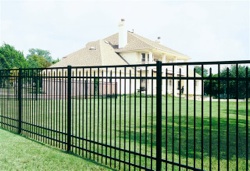 Aluminum Fences installed by Huntersville Fencing
Elegant residential fence installation
Huntersville Fencing supplies and installs a wide range of aluminum fences styles. We buy direct from the these top 3 aluminum manufactures in the U.S. for a reason, it gives our customers almost any design option – from colors, picket styles, ornate additions, screw-less options, rackable panels and the most up to date to new fence designs.
Ornamental Aluminum fencing combines elegance with quality construction and exceptional strength. The beautiful designs of high-strength aluminum are protected by a maintenance-free finish. Ornamental fencing is the perfect accent to any location where security, aesthetics and maintenance-free performance is desired, such as, homes, neighborhoods, schools, parks, universities, apartments or office complexes.
About Aluminum Fencing
Ornamental aluminum fencing has the look and feel of traditional wrought iron fencing, but without the high maintenance and need to be repainted in the future. Also, our prefabbed panels have the option of shrinking the picket spacing to 2″ or 3″ for small dog safety as well. Unlike iron, aluminum does not corrode or rust and should never need to be repainted and aluminum fencing is lighter than steel or iron fencing. These characteristics make it a perfect fence for certain yard situations. Our staff of skilled project planners can assist you with any additional questions you may have on choosing your aluminum fence product.