Wood fencing is a natural choice. A traditional wood fence is a classic and beautiful addition to any home. Wood fencing is a wonderful way to provide not only security for home, children and pets, but also provides excellent privacy. Nations Fence offers a variety of woods and styles, in addition to treatments that insure durability for years to come.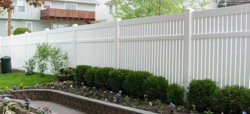 Vinyl fencing never needs to be painted or stained because it will not peel, rot, rust or flake. From pickets to privacy, traditional to contemporary, vinyl is the choice of many homeowners looking for low-maintenance durability without sacrificing beauty, security or privacy.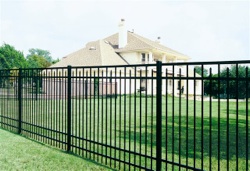 Ornamental Aluminum fencing combines elegance with quality construction and exceptional strength. The beautiful designs of high-strength aluminum are protected by a maintenance-free finish. Ornamental fencing is the perfect accent to any location where security, aesthetics and maintenance-free performance is desired, such as, homes, neighborhoods, schools, parks, universities, apartments or office complexes.
Chain link is available Galvanized (woven steel construction coated with an anti-corrosive agent) or Vinyl-Coated (durable and attractive appearance of extruded polyvinyl fabric with the same corrosion protection as galvanized chain link).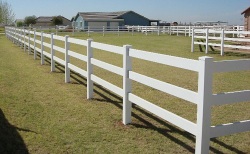 Huntersville Fencing installs affordable farm fences for our residential and commercial customers throughout the area. A great farm fence defines your property. It rolls with the hills and creates a peaceful repetition that draws your eye to the horizon and beyond. It's the first thing you see when you come home, so it should be given just as much aesthetic care as the home itself.
More about our residential fence installations
Fence Styles
Purchasing a fence is not an easy task. Most people only do it a few of times in their lifetime and often find it difficult to get straight forward, unbiased advice on the topic. In this area, we simply explain fencing without the sales pitch. We explain fencing the way we would if we were helping a friend with their decision.
The Right Fence for You
There are many reasons to buy a fence including protection, beauty, privacy, defining boundaries, accenting surroundings, and keeping children in or dogs out (or vice versa). Choose from a range of styles and designs, in addition to a variety of materials and quality grades. When considering the cost of a fence, think about how long you want it to last and how much maintenance it requires. Also consider zoning laws and neighbors before making your final decision. Ask yourself how long you will be living in your house, as well as, whether you mind maintaining your property or prefer to pay someone else to do it. A quality product will help to avoid future maintenance costs or can add value to your home. The answers to questions such as these can point you to the best fence that's right for you.
GENERAL CONSIDERATIONS – (Issues you should consider before any fencing project.)